Avi was the beginning, the man that introduced me to what pleasure really was. He allowed me to be free to express myself sexually without judgment and to explore everything I was curious about. He encouraged my sexual deviance in ways that I had never thought to verbalize. Every man who came after Avi had to meet a very high standard of pleasing me. But the upside was that Pandora's box was wide open when I left Miami, but most of the things Avi encouraged was too advanced on the freak scale for the men I met until recently.
​
When I decided to put myself out there on dating platforms, I wasn't sure where I would fit in. I wasn't looking for love or a companion but I didn't want to just be out there offering pussy either. What is a girl to do when all you want is to be bent over by the waist and instructed to just take that DICK while he palms a hand full of hair forcing your back to arch perfectly to accept the shock of his dominion? Thinking of it caused phantom vibrations leaving me in an orgasmic past. I felt so ridiculous, walking around like a horny teenager wanting to hump every beautiful man in sight. It was like I was growing a penis and sweating testosterone. All I wanted to do was FUCK, someone, anyone, BUELLER?


| | |
| --- | --- |
| ​ I knew I wasn't ready to date anyone so I tried to make my profile as clear as possible, by indicating that I was only looking for "friends" whatever that was supposed to mean. After several dates with a man that thought "Friends" meant meeting his family and going on couples getaways with his married companions; I started searching the personal ads on CL.. | "One day" |

CL was like a new frontier for me. At first, the ads were entertaining, because I could never see myself answering one. I mean what kind of person puts an ad in an online classified in search of a person to satisfy whatever longing one can conjure? One day, I stopped judging others, and I was able to identify what I needed and crafted an ad to post.
Within hours, I found Carlton. Carlton was unexpected, short, clean cut, proper, but a total sexual deviant. It was a Sunday afternoon and my toy was no longer doing the job. It had been some months since my encounter with Jackson and I was in serious need of more services. It may have been why I was so bold as to compose such words. Never before had I expressed myself so self-assured and audaciously in writing.

Carlton's first email was short and to the point.
​
From: iMakeBank <CL9000@xxx.comt> Date: November 21, 2015 at 5:08:53 PM EDT To: Junk Mail <CL889088u08@xxx.com> Subject: TAG
Hello, I read your ad and I think we have some things in common. I think we should talk.I currently have an ad up-
Dominate Blk Male Seeks Sub- Race and size unimportant, must be willing to submit and enjoy aggressive manhandling such as choking, biting, slapping.
Interested??

HELL YEAH!!!

It wasn't long before he responded with a phone number. We exchanged heated text before setting a date to meet. He wanted to stop by that night. I agreed and then thought better of it. WTF was I doing? Was I really willing to risk my safety for some dick? I mean who was this dude? He could have been a serial killer waiting for some desperate fat girl to invite him into her home so he could slice her up without any interruptions.
I texted him back with a, "hey, I don't think I am ready for this yet," do you mind meeting for coffee first?"
"Sure, can you talk right now?" I stared at the cursor blinking as if it was waiting for an answer. I hated talking on the phone to strangers. I have always been socially awkward and never mastered the art of small talk. Besides, I had no interests in "talking" I just wanted to…
My phone rang while deciding if I wanted to talk to him. Unknown Caller…it was Carlton.
Anxiety clouded my thoughts and I wondered if I were being self-destructive? After all, what kind of woman answers an ad like that and does NOT expect to be PAID? And why was I going THIS far to seek out strange men for sexual satisfaction when I had plenty of male friends sitting on the bench for these types of emergencies?
"Hello," I answered unsure of what to say next.
"Anji?" his voice was medium and modulated, like a financial reporter.
"Yes," I forced myself to speak.
"How are you doing?" he asked, "Is this a good time?"
"Yes, I was just…"My voice trailed off.
"Oh good, are you enjoying your Sunday?" He certainly didn't seem like a serial killer as he went into a short story of his life and why he was on CL. Carlton was a Commercial Real Estate Executive for a reputable firm in the DC area. He was the second half to a beautiful and ambitious woman who had better things to do than entertaining her husband's insatiable sexual appetite. She knew he was involved in extramarital affairs for sexual satisfaction and was fine with it as long as it did not interfere with his fatherly and husband duties. It was different; meeting a married black man who claimed he was married to a black woman but in an open marriage. I was intrigued and wondered if I could be the wife that allowed her husband to roam as long as he came back. The thought had crossed my mind while married to husband #2 after months of going without sex, but he was not receptive to the idea of ME roaming. Men can be so selfish.
After a few minutes I warmed up to Carlton, we were not that different. Two people seeking kinky gratification from strangers. We agreed to meet Tuesday evening at a nearby Starbucks but our text exchanges started to read like BDSM porn. By 5 PM Tuesday, we both knew there was no reason to meet at Starbucks. He showed up to my house in a Thomas Pink dress shirt under a sweater vest. I opened the door in his requested attire, a t-shirt with panties on.


He walked in and barely said hello before his tongue was down my throat and his hand around my neck, asking me if I wanted to be his slut. I refused to answer,he struck me across the face without hesitation and then licked my lips while he held them puckered, teasing and sucking the softest part of my bottom lip that felt more like the lips swelling between my thighs. I was stunned but freakishly turned on. Seconds later I found myself on my knees with a firm grip behind my head swallowing a fat shaft of meat; its head punching my tonsils with each slurp. I loved it! "Is this what you wanted," he pushed deeper and I gagged for air as he clutched my neck with both hands. It was messy, sloppy and perfect.


The first stroke always feels the best after a long break without, it's like putting a Q-tip in your ear to scratch that itch you could not get with your finger. My back arched in the proper angle to get the best strokes, he proceeded to please. The first strokes were firm and deliberate,each penetrated the fear and relaxed my body enough to allow the condom to glide with ease. After a few strokes in the condom became slippery and he began to beat up my pussy for the next 7 minutes until he forced me onto the carpet on my knees, ass high in the air as he kneeled behind me and commenced to drilling as if he would never get to again. I could not keep quiet and covered my mouth with both hands. "I want to hear you," He pulled my arms until they no longer covered my face. I moaned deeply as he pumped harder and my pussy cloaked his cock in creamy jewels.
​
"I'm about to…." I inhaled deeply as every dirty little thought painted the inside of my eyelids in fairytale colors. He did not miss a beat as my body pulled away from him in pleasure. I felt his hand on my clitoris, rubbing softly as he slowed down his pace to a circular wind and we lowered to the floor. He flipped me onto my back and mounted in a scissor position.
"But…" I tried to back away from him, I wasn't sure I could take another round of shagging.


​"You aren't done," I stared at this unassuming man who lustfully studied my body while he caressed my right breast. He was precise and skilled. Three minutes in the scissor position and his short and stout hand choked me into orgasm, "Tell me," his gaze deep and intense before his grip tightened to command obedience, " whose pussy, is this?" his dark, complex eyes made me want to submit. But I was not ready to hand over all my power however, he persisted.

---

. "Whose pussy is this?" The pressure around my neck intensified just like his lower movements. The blood vessels swelled in my face and I could feel the explosion coming again just as he immersed himself in a surge of my carnal transformation. There was nothing I could do to keep quiet, and I blurted out his name. At that point, I knew my neighbors were irritated with all the shrieks and squeals that escalated from muffled to concert hall level. I had NO shame.
​
After that night, Carlton and I had a weekly dick appointment for over four months until it became inconsistent due to real life. Eventually, one month turned to 3 and then I became disinterested because my options became more interesting.
Powered by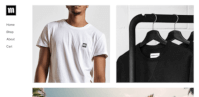 Create your own unique website with customizable templates.
Photo used under Creative Commons from alterna2